| | | |
| --- | --- | --- |
| | Dr.Casey Bearden, Spinal Specialist-Voted Best in Nashville | |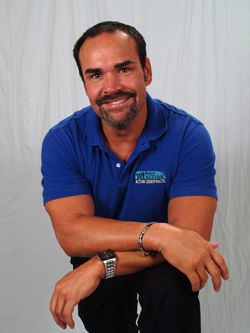 Welcome to Action Chiropractic!
We know you have a choice in chiropractors in the Nashville, TN area.
My personal guarantee to you...
Most drug companies will offer you a free trial for one of their drugs. I will match it and do you one even better. If you are accepted as a member of our chiropractor practice and do not see and feel the difference after 4 treatments, I will personally see to it that you are refunded your money in full. No questions asked!!! You have nothing to lose and everything to gain.
It's our (POMG) Peace of Mind Guarantee!
Dr. Casey Bearden
Spinal Specialist
Action Chiropractic
6410 Charlotte Pike
Nashville, TN 37209 (Also serving 37205, 37211, 37221)
Click HERE to write review about us in Google!
The informality of the office made me feel cared for, respected and valuable as a person. There was no intimidation what so ever. I always heard that once you see a chiropractor you had to always go back…forever. Not the case with Dr. Bearden. He planned a release date with me, fixed me, and even once called me and asked me if I was ready to be released. Put aside your preconceived notions for it may put you on the operating table. Do something different and see
Dr. Bearden..
L. Caldwell
My spinal adjustments are wonderful and I slept the best I have ever!! What a difference Dr. Bearden's adjustments make in my life. I feel relaxed and rejuvenated every time and see him monthly. Looking forward to my visits!!!
Divina O.
I must say that Doctor Bearden is the only doctor I've ever come across that I actually like. He and his staff are friendly, laid-back and have a real concern for your well-being. The relaxed atmosphere makes a world of difference and put you immediately at ease. Despite his office being across town from my home, I've been seeing Doctor Bearden more than two years and he's made a tremendous difference in restoring my back's health and maintaining it. He's also diagnosed the fallen arches in both my feet and fitted me with arch supports that have eliminated the pain. I would recommend him to anyone.
A.Adkins
Just Released:

Getting You Back Into Action, And Keeping You Off The Surgical Table
By W. Casey Bearden, D.C.



This book was written to help you learn the following:

· How to stay active pain FREE

· How to stay out of the doctors' offices and on the field of life

· How and why celebrities use chiropractic

· How to minimize lifetime medical bills

·

Why choose chiropractic first, drugs second, and surgery last




Available in paperback at Dr. Bearden's office on Charlotte Pike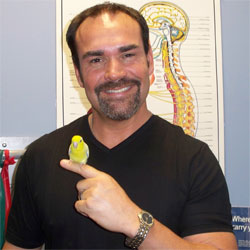 "Being afraid of chiropractors all my life I went to medical doctors only to be frightened more by surgery & knocked out by pain pills, so I opened the phone book & wanted a chiropractor close to where I live, so was I ever surprised to discover Action Chiropractic with their marvelous staff who really care & then the past 6 weeks the marvelous special embrace of the fabulous Dr. Casey!! No longer do I see the wheelchair in my future or even a walker & am so thrilled by my recovery & pain free life that I named my beautiful baby boy parrotlet, Casey!! I feel ready to go backpack the Andes! Don't deny yourself a pain free life"
Col. Christina Bridges - Nashville TN, 37221




Palmer Graduate

Member - American Chiropractic Association (ACA)

Member - Tennessee Chiropractic Association (TCA)

Member - Better Business Bureau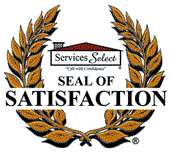 Awarded
2010 : Seal of Satisfaction
For Business Excellence and exceeding Customer Satisfaction

***********Nominated and elected through independent consumer surveys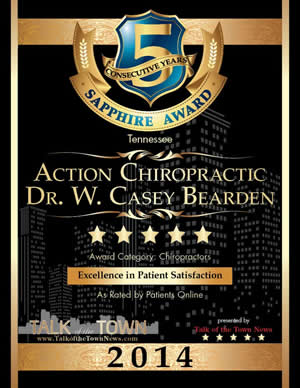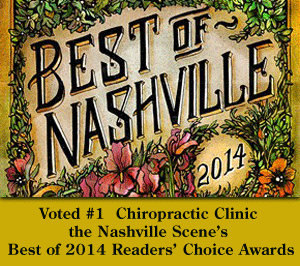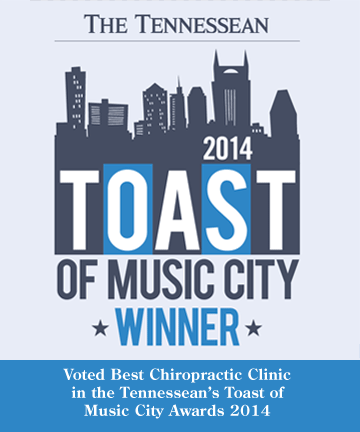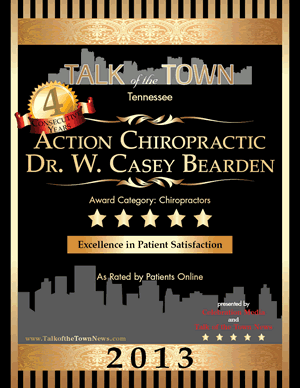 PATIENT REVIEW
"The chiropractic adjustments that I received at Action Chiropractic over the past two seasons (shoulder, back and pelvis) definitely enhanced my performance on the track, especially at the 2007 USA Track and Field Masters Outdoor Championships. I had a series of adjustments leading up to that meet which gave me the confidence and edge to train hard and compete without pain. I placed 6th in the nation in the 200m and 400m sprints, and was part of the gold medal winning 4x400m relay team in the M40 age division."

I know I've said it before but Thx again,

Dr. Marcus Shute
Nashville, TN 37221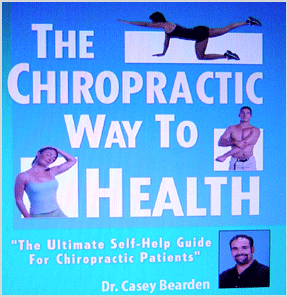 Published Author Dr. Casey Bearden
Dr. Casey,
Your Book on health and nutrition is awesome. Not only is it an easy read…….but so much clear and concise information. This book should be in every home as a health reference.
-Flo Smith, Nashville
| | | |
| --- | --- | --- |
| | Top News & Articles | |
Are You Locked Out of a Healthy Spine
Have you ever gotten up one morning, tried to stretch, and felt like some part of your back or neck was just "stuck"?

-or-

Have you ever leaned over to pick something up, stretched toward the item and your body just "stopped" before you completed the reach?

-how about-

You're in your swing playing tennis or golf, or going up for a layup on one side of the basket and your body just "quits" or "catches"?

It is sometimes easy to tell when it's time for a chiropractic visit. That "stuckness" that you feel may be a locked out vertebra. Bones in your spine may have, by injury, result of bad habit, or even genetic weakness, managed to move out of normal position. This effects normal body balance and function. This spinal fixation can create pain and muscle spasm, direct and indirect effects on the nervous system, and inflammation.
Baby Talk is Talking Chiropractic
In a recent issue of Baby Talk magazine, an article entitled, "It's Only Natural", discussed a recent gathering of 300 pediatricians in Tucson, Arizona. The speakers included, Stephen Straus, M.D., head of the National Institutes of Health's National Center for Complementary and Alternative Medicine and Andrew Weil, M.D., director of the program in integrative medicine at the
University of Arizona College of Medicine. The article stated that pediatricians are becoming aware that patients' parents are less and less eager to turn to drugs when treating childrens' illnesses. The pediatricians were looking at options for "times, such as with colic or recurrent ear infection, when standard treatments don't hold all the answers". This is an excerpt on the portion of the article dealing with chiropractic and children's health:

"How does it work?" "Chiropractors trace many of the body's health problems to misalignments of the spinal column, which press on the nerves leading to various parts of the body. But, chiropractors who work with infants don't apply the same force that's used with adults..."
Doctor it only hurts when I Do This
The comical response is, "So don't do that!!!" If what makes "it" hurt is standing, sitting, or especially, breathing, we are in trouble. For back pain sufferers, all these things and many others are painful. Back pain sufferers are forced to change their lives when they are "down in the back". Favorite activities become memories and busy people can be stopped dead in their tracks by back pain.
Back Packs and Back Pain
The amount of weight carried by children in their backpacks deserves serious consideration. Loading the spine risks low back pain not only in adults but in children; the load that children commonly carry is their school backpack. To quantify how much weight children likely carry in their backpacks, researchers from Milan, Italy ascertained the weight of backpacks used by sixth graders at several schools.